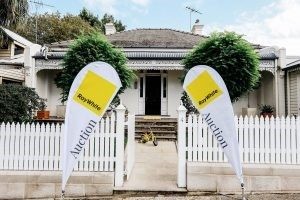 Our week really began on Friday 9 October with the auction of 1 /2 Ambleside Drive in Northpark. This property was brought forward from its designated 19 October auction date, due to an unconditional, pre-auction offer having been accepted by the vendor, subject to the property being submitted to auction at the earlier date. From the pre-auction offer of $1,350,000, it sold 'under the hammer' after some 31 bids, for $1,491,000.
The weekend was active and busy with 74 Armstrong Farm Drive, East Tamaki Heights, within our Eastern Beaches area, selling 'under the hammer' after competitive bidding for $2,940,000.
Monday evening arrived with early attendance at the Bucklands Beach Yacht Club, the home of Ray White Auctions and, as with recent weeks, a positive attitude to bid and buy. The properties being offered in this week's portfolio were found in Sunnyhills, Farm Cove, Bucklands Beach, Mellons Bay, Howick, Cockle Bay, Highland Park, Botany Downs, Golflands and Dannemora. The portfolio demonstrated the variety of property type, price range and location which we enjoy within the Eastern Beaches area.
The evening commenced with:
31 Stanniland Street in Sunnyhills, which sold 'under the hammer' after some 37 very competitive bids, for $1,490,000.
35 Cheriton Road, Mellons Bay sold 'under the hammer' for $1,858,000 after some 27, very competitive bids.
46A Golfland Drive in Golflands attracted 14 bids to achieve an 'under the hammer' sale of $796,000.
74A Bradbury Road, Botany Downs was another property which drew multi-competitive bidding, selling after some 39 bids for $1,001,000.
44 Manor Park in Sunnyhills attracted a positive start and sold 'under the hammer' for $3,200,000.
15 Drake Street, Howick enticed buyers who appreciated the future potential of its 1141m2 section size, selling after some 33 highly competitive bids, for $2,335,000.
2/123A Hutchinsons Road in Bucklands Beach sold 'under the hammer' for $735,000.
4 Castlemaine Close in Dannemora also experienced competitive bidding, to sell 'under the hammer' for $ 1,420,000.
Two adjoining owners offered their properties, 105 and 105A Aviemore Drive in Highland Park, to buyers who could judge future redevelopment, with a combined land area of 1260m2. After some 24 competitive bids the properties sold 'under the hammer' as one parcel, for $2,435,000.
14 Caithness Place, Farm Cove also sold 'under the hammer, for $1,550,000.
After post-auction negotiations, 1/78 Ridge Road in Howick has achieved a sale.
We continue to work with the buying interest for the balance of the portfolio, to affect a successful sale for our vendors.
So, after more than three weeks of marketing, we have achieved extremely pleasing, positive and competitive bidding, with great results for our vendors whose properties sold under the hammer. However, it should also be acknowledged that the sales provided buyers with an opportunity to buy quality real estate assets, knowing that while having to competitively bid/buy to be the 'winner', they were bidding/buying property which was also the first choice for a number of other buyers.
The prices achieved confirmed our ability to maximise price for our vendors. Nonetheless, to achieve such results buyer interest, bidding registrations and actual competitive bidding are the components to achieving great results.
This year is disappearing all too quickly. However, as we move through the remaining weeks of October, November and the earlier weeks of December, we will have quality portfolios of property which will give buyers an opportunity to evaluate the buying options. This is coupled with our ability to give prospective buyers direct access to a highly experienced, award winning team of mortgage advisors, who have access to a variety of lending institutions and their very favourable mortgage conditions.
As a foot note, I keep an eye on Australian trends through reports published by Williams Media. This week there was, again, limited auction activity comment. However, the following comments were made.
Melbourne
Auction activity remains low across Melbourne this week with 60 homes taken to auction. Of the 52 results collected so far, 59.6 per cent were successful while just under one third of reported auctions were withdrawn. Over the previous week, 55 auctions were held across the city, while this time last year, 974 Melbourne homes were taken to auction.
Sydney
Sydney was host to 754 auctions this week, up from both last week when 430 auctions were held, and this time last year when 733 homes were taken to auction. Of the 587 auction results collected so far, 73.1 per cent were successful, similar to last week's preliminary result of 73.2 per cent which revised down to 65.8 per cent at final results. This time last year, Sydney recorded a final auction clearance rate of 76.9 per cent.'
Ken Ralph
Auction Services Manager